Hi guys and gals, so this week I am reviewing the H&A Thomas & friends bubble bath. I was unlucky at missing the free sample Tots100 were handing out, Nevermind I thought I will just go out and buy it as I was told that Asda were "testing" it at the Baby and Toddler Event. However sadly I couldn't find it. After asking H&A on their Facebook page if I could purchase it anywhere else I received an email from them. They told me they would send me their Thomas bubble bath as I couldn't find it. I felt so honoured and really lucky that they were so kind to send it to me. I didn't mind Thomas as my son LOVES Thomas and the tank engine.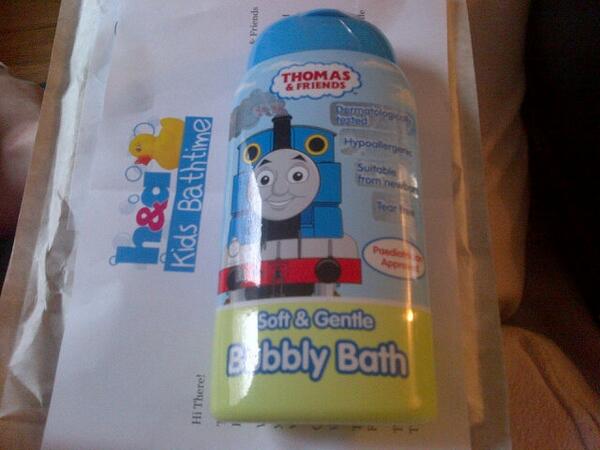 So you might be wondering 'Hey Rachel why is this post so late' Well my good friends there is a reason. Basically when I did my first test I didn't put much water in as I didn't think David was ready for more water in the bath I was so used to only putting a small amount in. Of course this didn't give much of the bubbles a chance to "activate". However today I put more water in my sons bath (yay!) and the amount of bubbles we got had improved.
bubble fun!
The picture really doesn't do the bubbles justice as my son by this point had already played with them like mad! I was really shocked about how excited he got as normally he gets in the bath and isn't really that bothered and will only start playing with the bubbles once I start playing with them too. The bubbles were really light and weren't heavy at all.
The mixture smelt really nice and fresh. Reminded me of when David was first born. You know that baby smell? I miss that but with this I can re-live that smell ah! Afterwards I was surprised at how smooth David's skin was. I've used other bubble bath products and they haven't made his skin feel as smooth as this bubble bath did.
A little bit about this bubble bath and H&A
So as well as Nemo and Thomas themed products in the new toddler range. There is also a Mini Mouse range too. I think this gives perfect places between all sexes which to be honest I don't see a lot of now days. There is always girls and boys but not many unisex products (nemo being what I would call unisex, but of course there is nothing wrong with boys liking mini mouse and girls liking Thomas).
mini mouse bubbly bath
Despite being released as the new toddler range these products are safe to use from birth. Of course like any good bath product it is tear free as well as being hypoallergenic, dermatologically tested and paediatrician approved. It's not just bubble bath H&A provide though, they also have a great range of shampoo's and fun toys!
Encourage your little ones to read anywhere and everywhere!
H&A's bubble bath costs just £2 (RRP) but most supermarkets I think will do deals so you could probably get it a few pence cheaper. If you would like to know more about H&A and see more products they have to offer then please visit there website at
http://www.handa-uk.com
*Even though I was lucky enough to be sent this product all opinions are my own. This is part of tots100 ambassador H&A competition....... wish me luck!