Hello ma lovelies and how we all this morning? Do we have a chocolate comma yet? I woke up at about 6:30am this morning thanks to my cheeky monkey. Man I miss the days when he woke up at 10am. It's much more sunnier then yesterday when it was a miserable Easter Sunday. Well weather wise the day it's self was quite fun though it felt a bit hectic at times. So what did I do for Easter then well your about to find out!
Me, Matthew and David woke up at about 7am. Which I don't mind so much as that's the minimum time I do breakfast. if he wakes up any earlier he has to wait. It's not being horrible it's to make sure he stays his in routine, or he'll just wake up earlier and earlier. Straight away I made him his tea and a lovely hot cross bun! Two infact as I wanted to make sure he was full. I'm glad I gave him two as he only left a tiny bit, such a little piggy he he.
We noticed that the table had got really cluttered again so we decided to clear it. That way I could line up all David's Easter eggs etc
The Jake and the Neverland Pirates egg is from me and Matthew. The bunny from Matthews dad and the little eggs from Matthews mum and step-dad. These were perfect to use in our Easter Egg hunt which I'll tell you more about later on.
At about 10am I got the crafts out. There was lots of card animals to make and included in the pack was googly eyes and colourful card. I had also saved some yellow tissue paper and the sweet wrappers from mine and Matthew's Quality Street egg I had won. David decided he want to try and cut and I was actually really impressed as he managed to cut some coloured paper. He also drew on the bunny and we stuck down some googly eyes. It wasn't long though until Matthews parent came round with the dogs so I had to quickly move everything out of the dogs way. They had brung round a garden storage unit which was very handy. Means I can put David's trike it in and other garden items. They also took some stuff that was in the back in my garden to the dump so all I have to get rid of now is the Asda trolleys and wash the patio. Me and Matthew were given a m&m Easter egg each and David some chocolate stars. He got given these as Matthews mum said I could just hand them out to him when he was good and I couldn't agree more.
I then gave David his first Easter Egg. I was going to give him an Easter egg after dinner but he had been so good all day that I decided to give him his egg from me and Matthew. He loved it I'm glad to say, I thought he would just be interested in the egg but he was fascinated with the bowl, spoon and cup as well, happy days! Oh I forgot to mention Matthew's parents gave David a baby pram, he absolutely loves it. He put his bag on the handle and everything.
I had to hide some of the crafts so he didn't glue everything together.
After Matthew's parents had left we went back to craft making. It's to say since we don't have enough dining chairs and no proper craft table it's because a slight chore due to David's age at the moment. As he's coming up to two his attention spam is very short and he becomes very impatient. I'm going to be buying him a craft table for Christmas, it will make things a lot more easier.
I moved it to the bigger table and he sat on my lap
After David got bored and I cleaned up a bit we moved onto making Easter biscuits. I got this pack from Asda. Basically the Easter version of the Christmas biscuit you can decorate.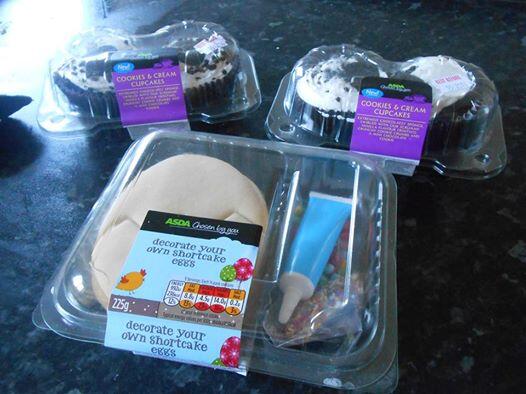 ignore the tasty cupcakes in the background ha ha
For some reason I thought it would be a good idea to decorate them on the high chair...nope worst decision ever. It was more messier then doing it in the kitchen. I don't even know how that's possible. I tried showing David that the icing was like glue to stick the smartie like sweets down. He didn't really understand though. I didn't mind...until the sprinkle went everywhere oh god why! I had to quickly take a picture as David' started to eat it ha ha.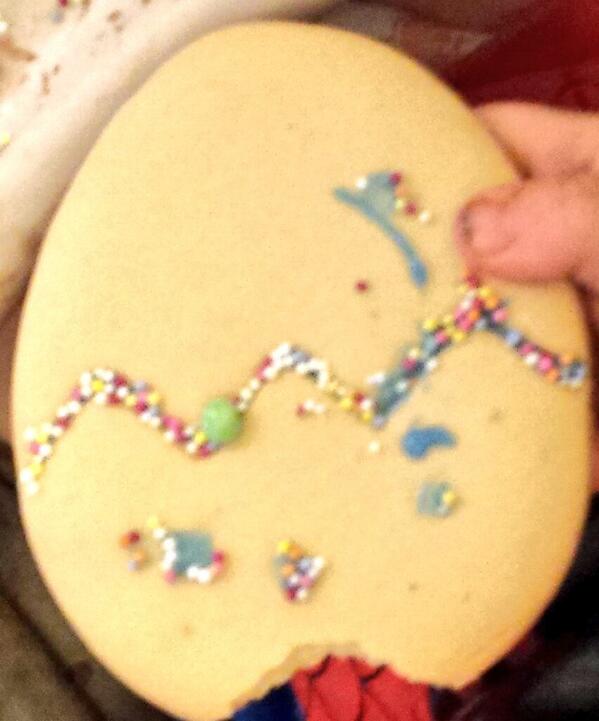 At about 3.30pm I put the lamb in the oven we got a massive leg of lamb for £12.07. Most of it is still in the fridge now! My parents came round at about 4:30pm, as my sister had work that day. I asked my brother and sister if they wanted to decorate an egg and my sister was being a spoil sort and sorted want the biscuit. She soon changed her mind though once she saw my brother Peter decorate his. Such children still ha ha it's all good fun though. During the time they were round Matthew went and got a chair from his dad's and came back with a beanbag too. It matched David's walls in his bedroom I couldn't believe it. Plus David loved it! My parents gave me and Matthew a Galaxy Minsterals egg each and David a Thomas the Tank engine breakfast set.
Here's a video of David enjoying himself on it
click me
After my parents had left it wasn't long until the lamb was cooked. We had it with roast potatoes and carrots. David didn't eat the lamb which surprised me as it was so tasty! When they sell this again at Aldi I'll be sure to buy it again.
After dinner I set up the eggs for David to hunt. I did ask Matthew to do this but he said he "didn't have a clue where to hide them". He lacks imagination poor lad ha ha. I hid them around the living and dining room. Examples were in the microwave in his kitchen, easel board, on his mega blocks table, sofa and other little hiding places. At first he didn't understand but after giving him "hints" (aka pointing and going "what's that") he got the idea which impressed me, even looked under the table bless. The the cheeky monkey ate the first one he got but he did put the rest in the bag which I was pleased about. When he found them all I have him his prize. The chocolate rabbit Matthew's dad got him. It's safe to say he was happy about that!
Sorry for the rubbish quality David wouldn't sit still
So that's all our fun we had on Easter Sunday. I did forget to do the polystyrene egg craft though so I shall be doing that will David tomorrow as this week's weather is going to be awful! Watch out for my blog links this week as I'll be doing TWO parental blogs this week. Gosh aren't you folks lucky, ta-ta for now.